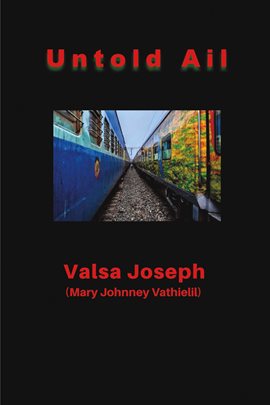 It is a combination of imagination, narration and facts and possibilities. The main plot is the love story of Raju and Lily who start a liking for each other in a railway carriage while traveling. The girl was quite indifferent and unaware of the boy's liking of her but was induced to return the boy's affection due to his continuous visits to her, talks and timely help. Both were away from homes for studies and work and find enough time to spend together. They go to tours with other picnic groups and visit historical places depicting cultural and artistic spots of significance. They take resolution to get married though both knew that was not easy as they differed in religion, culture and mother tongues. But they knew each other for three years and was not easy to part with. When Raju finished his BDS and Lily still doing B.Ed. course the former left for his home and parents who were Hindus bluntly opposed his desire to marry a Christian girl. Lily continued to work as a teacher away from her state, quite hopefully to unite with Raju in marriage though he did not contact her at all for ten months. In those days the main means of conveyance was only mailing postal letters. Hardly any home had a telephone. To her desperation she got a reply letter from Raju stating that he was married and the father of a baby daughter. Lily was bitterly sad, upset and repugnant. She could not take the message in the letter as it was Raju who was bent on stabilizing their relation. She was angry more than being sad and went her way to agree with a marriage proposed by her parents. In those days, say four or five decades ago ninety percent of the marriages in India were arranged. Even to this day the same tradition is going on mostly. The two proposals of Vinatha and Masood Mahmood brought for Raju and Lily respectively are interesting and good ones but rejected by both. Indian marriages are arranged even to this day but are not made marriages like the time old ones. The boy and the girl are given freedom to accept or reject the proposed alliances. In Indian tradition the arranged marriages go well. Only at the end of the story it is brought to light that Raju was an ardent and sincere lover who sacrificed his life for Lily. Actually, he was never married and never a father. As soon as he had reached his parents, they had brought a lady doctor's proposal for him which he refused. Under the pretext of getting some certificates for the starting of a clinic and practice he planned to go to Lily. But unluckily on the way to the telephone booth crossing the road, a truck hit him, and he fell to the road unconscious, his right knee being crushed and resulted in cutting his leg from above the knee. He could walk only with the aid of crutches. As he did not want to come to Lily's life handicapped, waited for ten months to create the story of his marriage and baby. 'Raju' was the pet name his lover had called him. When he was healed his dental clinic was named after that Dr. J.C. Raju Dental Clinic. Lily in her old age as she had dental problems went through the website in search of a dental surgeon and she saw the name of the clinic and contacted and to her great surprise it was her onetime lover's clinic. The communications were carried out by Dr. Raju's assistant Dr. Suraj. Lately Raju had open heart surgery which weakened him badly- could neither attend a phone call or handle a keyboard to type due to shivering and shaking of the body. The parents who rejected Lily to be Raju's wife were willing to accept her when he was crippled after the accident and the surgery. But Raju had made up a story which made Lily hate him. The educational tour and visiting the places like Elephanta Caves in Bombay, Ajanta Ellora caves are well explained giving a picturesque description. The Charminar, Salarjung Museum and the life like statues pictorial details will no doubt delight the readers. The Golkonda Fort, the Kutab Shahi tombs are also explained.
Searching for more content…
---
Opinion
From the critics
---
Community Activity
Notices
Add Notices
There are no notices for this title yet.
Quotes
Add a Quote
There are no quotes for this title yet.
Explore Further
Recommendations

Loading...